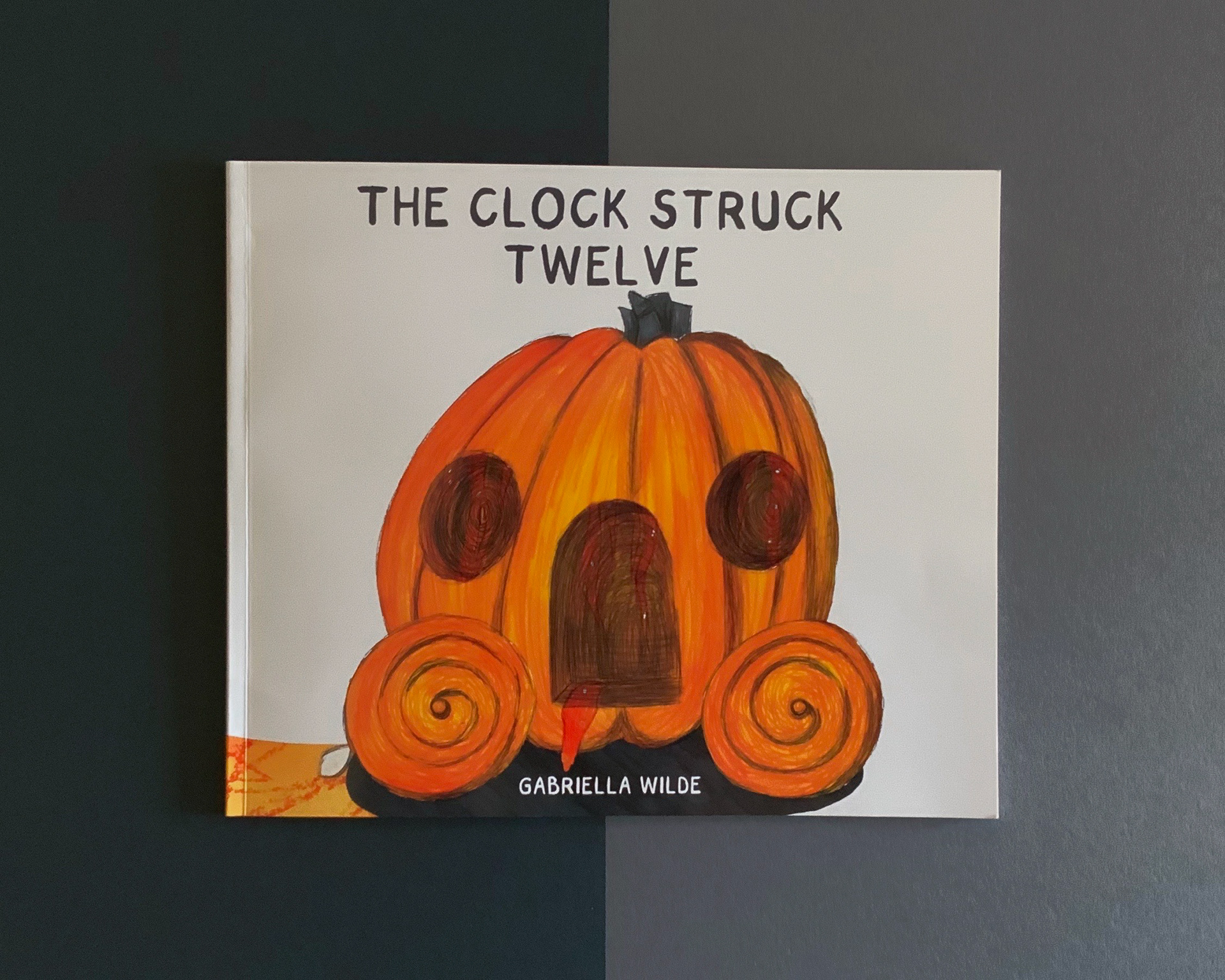 In mid-2020, I completed my self-initiated Cinderella project. I aimed to produce 4 book spreads for my own contemporary take on the classic fairy tale. The tone was tongue-in-cheek, accompanied by rhyming text of my own creation.
Illustrations, text, composition, and typography by Gabriella Wilde.
Image 1: Pumpkin gunk trails across the image from the left, falling from the carriage on the right. Text reads: Left: "Once upon a time, in Cinderella's life, her days were filled with torment and strife. She desperately wanted to go to the ball, but her step-sisters said "no" - which is not fair at all! Luckily, her Fairy Godmother shows up, and fixes ALL of her problems with magic and make-up. Though this fairytale is not how it looks, the narrative differs from other books." Right: "The Clock Struck Twelve. Gabriella Wilde."
Image 2: Front cover mockup.
Image 3: Full cover mockup.
Image 4: Photograph of book front cover: Pumpkin illustration. Text reads: "The Clock Struck Twelve. Gabriella Wilde."
Image 5: Photograph of book back cover: Pumpkin gunk trails across the image from the left, falling from the carriage [out of shot]. Text reads:"Once upon a time, in Cinderella's life, her days were filled with torment and strife. She desperately wanted to go to the ball, but her step-sisters said "no" - which is not fair at all! Luckily, her Fairy Godmother shows up, and fixes ALL of her problems with magic and make-up. Though this fairytale is not how it looks, the narrative differs from other books."  ]