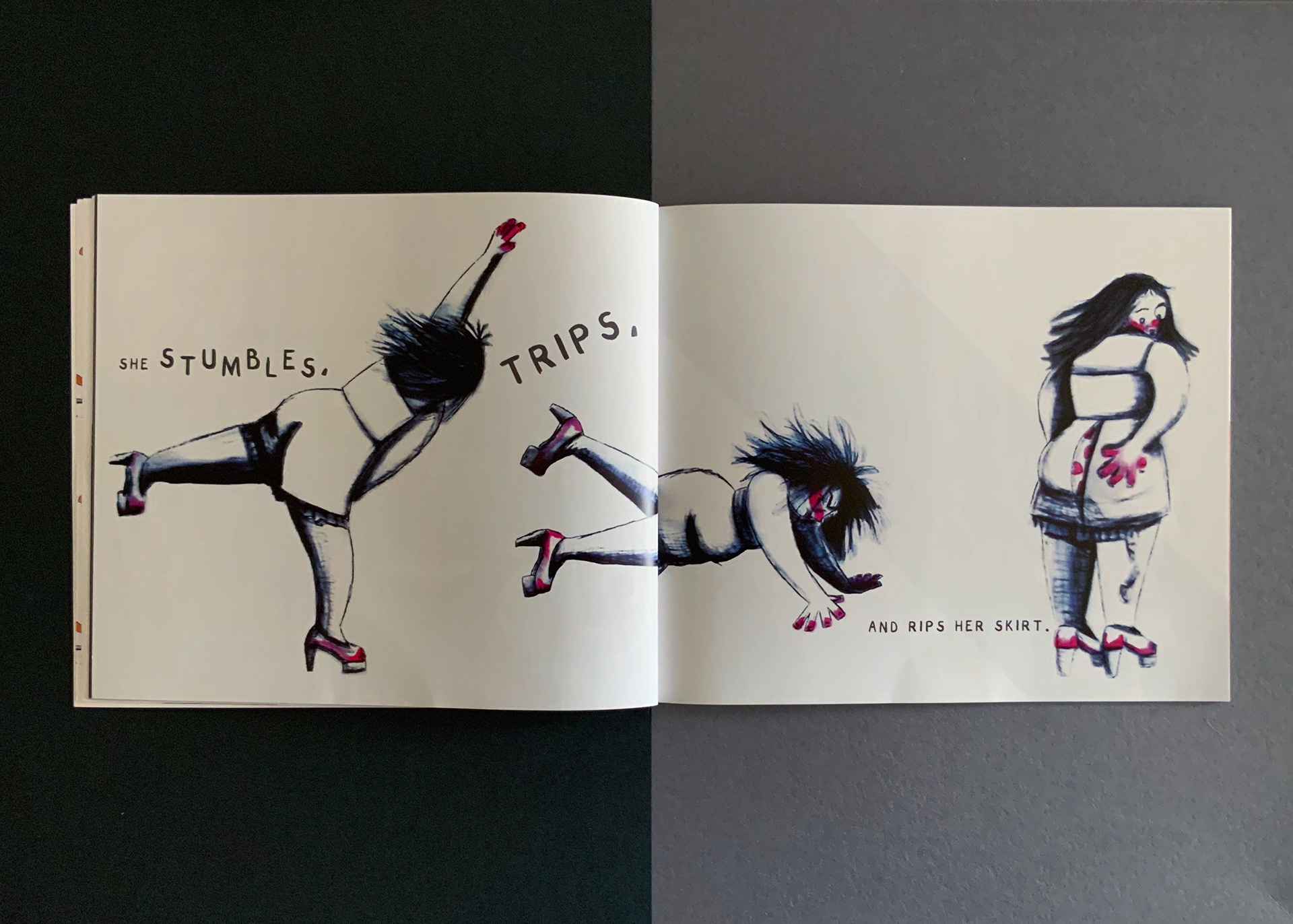 In mid-2020, I completed my self-initiated Cinderella project. I aimed to produce 4 book spreads for my own contemporary take on the classic fairy tale. The tone was tongue-in-cheek, accompanied by rhyming text of my own creation. This spread shows Cinderella tripping in her shoes, and ripping her skirt in the process.
Illustrations, text, composition, and typography by Gabriella Wilde.
Image 1: Mixed media illustration, using black biro, black, and pink watercolours, and digital editing, with a white background. A series of three consecutive illustrations shows Cinderella, clad in high heels and a tight dress, tripping over. Initially she loses balance, her left leg in the air behind her, and her left arm above her head. With her arms stretched out in front of her, and legs following behind, she braces herself for the fall. Finally, having recovered from the fall, she looks behind her, examining the rip at the back of her dress, exposing her heart-decorated underwear. The pleated hem of her dress has also ripped, hanging down her leg. Her face, feet, and fingers are coloured pink, along with the hearts on her underwear. The text reads: "She stumbles, trips, and rips her skirt."
Image 2: Book spread mockup.
Image 3: Photograph of book spread: Mixed media illustration, using black biro, black, and pink watercolours, and digital editing, with a white background. A series of three consecutive illustrations shows Cinderella, clad in high heels and a tight dress, tripping over. Initially she loses balance, her left leg in the air behind her, and her left arm above her head. With her arms stretched out in front of her, and legs following behind, she braces herself for the fall. Finally, having recovered from the fall, she looks behind her, examining the rip at the back of her dress, exposing her heart-decorated underwear. The pleated hem of her dress has also ripped, hanging down her leg. Her face, feet, and fingers are coloured pink, along with the hearts on her underwear. The text reads: "She stumbles, trips, and rips her skirt." ]