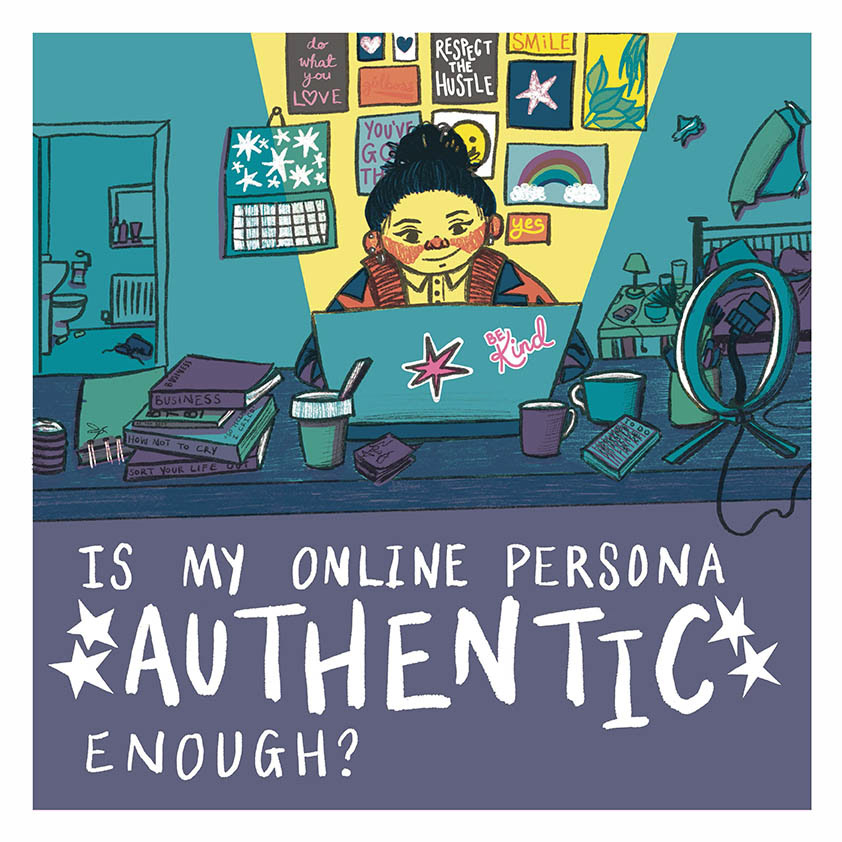 Digital illustration and Risograph print combining cut-out and hand drawn typography for 

'It's Not Rocket Science': Care for Contemporary Creatives

. This body of work for my MA Illustration degree explored attitudes around creative careers and how we can care for ourselves as creative professionals. Appearances may not be as they seem on social media. When building your brand online you can adopt a persona for your career, which may not be as authentic as it is designed to appear.
[ image description: digital illustration. A woman sits at a desk, working on her laptop. Her face and the wall behind her, covered in motivational prints, are lit up yellow by the laptop screen. The blue-tinged darkness outside of this light is less than perfect. Out of view of the laptop, a messy bed and littered bedside table sits behind her, below a ripped poster. On the other side, an open door reveals a scruffy bathroom. Surrounding her laptop, books pile on her desk, and a collection of mugs, pots of food, and to-do lists gather. An open sketchbook, stack of paints, mug of pens, and a ring light fill the rest of her workspace. Underneath, hand drawn text reads: "Is my online persona [sparkles] authentic [sparkles] enough?"]